Well I am finally back! Sorry for the long hiatus, but I ended up getting a bug, then it was Christmas, so needless to say, I didn't get around to posting anything new the past few weeks.
I wanted to tell you all about this new organizing website I found called
A Bowl Full of Lemons
. Toni is the wonderful woman behind it and she is hosting a 21 day organizing challenge. I totally signed up because after all of the hustle and bustle of the holidays, I have got to whip this house into organizing shape!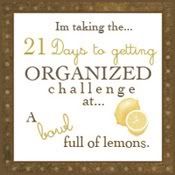 Hope you all had a very Merry Christmas!