So I know I've been slacking off on posting and completing the challenges from A Bowl Full of Lemons. I have been doing organization and cleaning, it just hasn't necessarily been what is assigned. Work has been insanely busy the past week and I've been worn out from the stress and motherly duties. Enough of the excuses....I've found another series I'm going to attempt.
Organize Your Life over at House of Grace.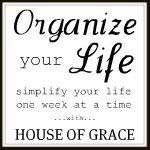 Here's to good intentions!