As you know, I completed MOST of the 21 Day challenge from A Bowl Full of Lemons. I kind of slacked off a bit on posting my accomplishments on the last couple of days because I actually did other areas that what was assigned and just got too busy to post. But once things calm down again around here, I'll post them.
I'm attempting Toni's next round of challenges.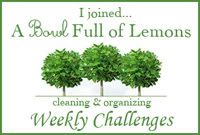 Go on over and check it out. Should be fun! Wish me luck.